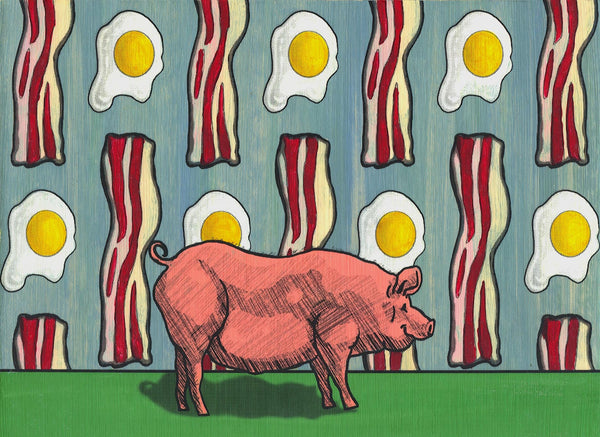 Throwback Thursday - Champ, the bacon loving pig!
This week for throwback Thursday we'll chew the fat about one of our most popular illustrations, Champ the Pig. Champ has been around for a while and is always a good conversation starter. In 2012 we started participating in local art markets. We were nervous and did not know what to expect at our first show, but it went smashingly well and we were hooked!  
We have come a long way, our tent looks much better now!
When we were getting new work ready for the Spring
Horseshoe Market
that year, we dreamt up Champ, our bacon and eggs loving swine.  It's always fun to watch people's reaction when they see Champ, and their response varies depending on the city we are in for that particular show.  Champ always gets a big laugh and "that's great" when we are in meat eating cities like Denver and Chicago. However, in the more liberal and vegan minded Boulder, Colorado he always gets a "that's sad" or "that's a little messed up!"  Either way, Champ continues to be one of our best sellers and still holds a special place in our hearts since he was there from very beginning of our art market days.
For more information on our artwork "Champ" please click here:
CHAMP